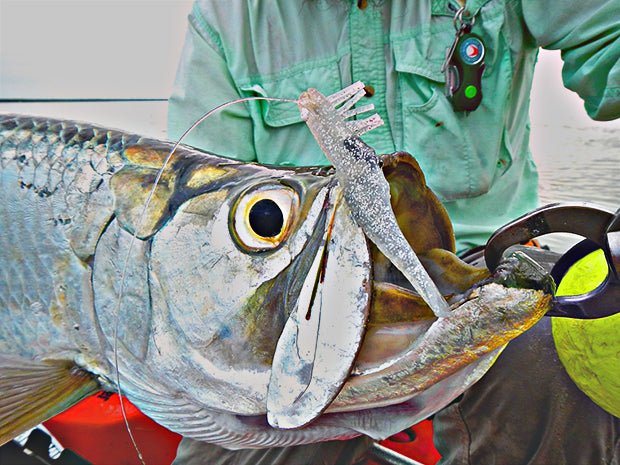 The Silver Prince
It's Memorial Day weekend, everyone knows it's going to be busy out on the water.  I was suspecting it from listening to everyone tell me that.  Gus and I headed out early. Up at 4 AM, out the door at a quarter after that.  We planned on meeting at Dion's around 5, or whenever we both got there.  It took me no time.  Sitting around waiting for Gus, I watched as at least 6 boats drive by me. Sheesh, they weren't kidding!
We arrived at the ramp in Flamingo around 5:45ish making our way through the maze of flats boats to unload.  The skeeters are out!  None with outboards, just the ones with wings, and they are swarming!  We made quick of the unloading and began the paddle out towards Snake Bight.  It was pre-sunrise with another 1-2 hours of outgoing tide and it felt like a good day.
About a third of the way into our paddle we see some wake pushing through.  Bait? Predators? Who knows? Break out the search bait.  Didn't take but 3 casts of my redhead one knocker spook to hook up to a little snook.  The snook was maybe 20 inches. It was a decent start, but the mosquitos were swarming. Gotta keep moving! We didn't stop again until we got to tarpon point.  I'd say it's a little over a mile paddle to get there. (I decided to change the name because I've never seen a Christian there, but always see tarpon rolling around)
I made a few casts to some tarpon with no takers.  So more paddling it was, making our way towards Snake Bight channel. I noticed a few wakes to which I attempted to cut off with my silver glitter DOA shrimp and BAM!  Another snook!  To which my 3rd, smallest snook followed shortly after.  My 2nd was the best of the day at around 24″.
Still making my way towards the channel, I kept spotting wakes.  Some of which are obviously not bait, so cast I must.  Doesn't take me but a hand full of casts to hook into another fish.  This one, a red.  About 21 inches.  Unhooked it and released it into my ice bath. That one is dinner. I just need one more species to complete a slam!
Photo by Gus Montoya
Only a bit more to the channel, and I can tell it is flowing pretty good.  I anchor up on the edge of the drop off and cast out the top water, again, searching around.  I had seen a few tarpon rolling in the channel and it takes no time for one to suck up my lure.  I try to set the hooks on it and it responds with a nice jump.  Once it's back under the water, it spits my lure.  Wasn't as peppermint flavored as it looked I suppose.
I kept moving up, or maybe down the channel, not sure which way is which.  Either way, every 50-100 yards I anchor up and make a few casts along the drop.  On my 3rd stop, the top water is already put away. Too much grass for 6 hooks to dodge.  It's on to my lucky set up, casting the silver glitter DOA shrimp again.  I'm getting little nibbles, but no hook ups.  I'm thinking catfish, maybe snappers.  I keep getting more and more nibbles so I finally just yanked back on my rod to set the hook on one. AYO!  Wouldn't you know it, my rod is doubled over with the drag peeling and followed by a jump!  Tarpon!  The fight lasts about 5-10 minutes.  He was really using the current to his advantage and taking out line.  It jumped 3 more times till I finally got it in.  I wipe the sweat from my brow with the fish in the net.  All the worries of the fish spitting the hook, the leader breaking or a knot slipping are gone.  
Photos by Gus Montoya
I'm 2 for 4 on tarpon in the kayak, not too bad.  This was my first Flamingo tarpon.  I've been trying to get one of these for more than a year, using all kinds of lures and bait. I'm very happy to have landed this one.  The hook was in the very last little bit of its top lip, which I barely had to push to get out. Sigh.  Snapped a few flicks, weighed the 11 pounder, revived this silver prince and let it go.  There goes my slam.  That's a slam for each of my last 2 trips to Flamingo.  I almost feel like I'm a real angler!
The fishing continues and the redfish in my cooler gets some company as I manage to get 2 nice mangrove snappers on the DOA shrimp.
Gus managed 1 redfish I believe.  He may be a little bit rusty coming back fresh off of vacation, but happy to not get skunked none the less.
The bite has been pretty tough out in Snake Bight for the last several trips we have taken.  Short windows of feeding, and tight lipped fish make you really have to work to hook up.  With the summer coming on strong, it should only get better, and hotter.
-Superduper PA J
superduperpaj@gmail.com