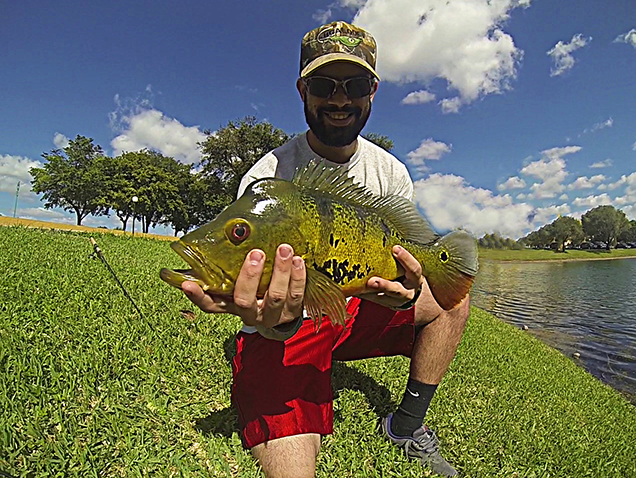 Spring Time in the City
It's that time of year again… and no I don't mean Spring Break and half naked women on South Beach… it's peacock bass spawning season down here in South Florida and boy are they everywhere!
We kicked off the weekend when Damian gave me a call on Friday afternoon with a mission in mind: to put his girlfriend, Betty, on her first peacock bass. I agreed to lead the horses to water and hopefully make them drink. Polarized glasses on, I spot the first victims. Damian breaks the ice as he swings the fly and immediately hooks the female guarding her nest.
It was now Bettys turn. Using her spin setup, she was able to get the male to hit the DOA jerk bait. She fought hard but on the fish's first jump out of the water, ploop! It spit the bait right out.
As we make our trek back home and losing sunlight, Betty decides to take one more cast at a fish in the distance. This time connecting and staying connected, she brings in her first ever peacock bass.
Fun to see the excitement on people's faces when that fish is tugging on the other end of their line.
But what about me?
The next morning, itching for a fish on my line, I showed up at my buddy Mike's house at 9 AM ready to hit the South Florida lakes. Using plastic jerk baits, we hooked onto 13 peacock bass in a few hours.
The next day, Sunday, we were back at it again totaling 24 peacock bass within two days between the two of us. Needless to say, my thumbs have taken a pretty good beating.
The peacock bass are out and aggressive this time of year. Don't take my word for it, explore your neighborhood lakes and experience it for yourself!
Here's a hint: "No Fishing" signs mean big fish.
Stay thirsty my friends…
-Skipper Chris