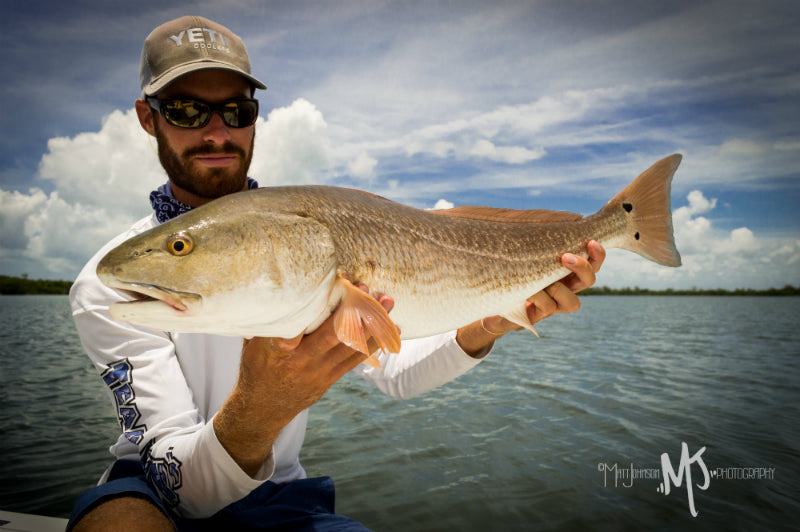 Guides Day Off
It's been a little while since I've had time to write a new blog. I recently started my own photography business and its been a lot more cumbersome then I had anticipated. This is a quick little write up from earlier in the week. Enjoy!
It was early Sunday evening when I received a text from a long time fishing buddy Kyle Petrick and Capt. Ryan Clase (Dynamic Fishing Charters) asking if I was interested in fishing and taking some photos Monday morning. With out any important plans lined up, I immediately said yes to the offer. We decided to meet at our local ramp around 9 which sounded great considering all 3 of us are usually up before sunrise occupied with our day jobs. Our plan for the day was to net some bait in the morning and head to some fishing grounds north of us. About 30 minutes after launching we had our live well nearly blacked out with a mixture of mid sized pinfish and a variety of white bait.
After getting our bait, We started to make our run to the fishing grounds and along the way we were stopped by a gnarly looking storm that blocked our way up. We checked the radar and it looked like it would pass in about an hour or so. We decided to hold off on fishing for a little and stopped by the "the Waterfront" restaurant to grab some beers and eat a early lunch.
The storm eventually passed but not without being heard. Thunder and lightning were the main reason for hiding out and stuffing our faces with 50 cent wings and cheap house beers. Hot Parmesan  & Garlic wings might be my new favorite, but I wont be the one to post food pictures on here.
After about a 30 minute run to our spot we found a local guide friend in our first spot. He claimed they already had 4 reds to the boat just before we got there which sounded promising. We collaborated together on the flat looking for the school that pushed through earlier. After about 20 minutes of searching, they finally popped out of nowhere, and in good numbers too. The school was moving wicked quick though, So Ryan grabbed some of the white bait and launched them out in front of the school in hopes of slowing the reds down and keeping them in one area.
That plan was as good as gold. We immediately  started hooking up along with the other boat about 75 yards off us. At one point, every person with a rod in there hand was hooked up (5 people total). The light tackle drags were singing from every direction.
My goal for the day was to take pictures and hopefully get some decent shots, and I stuck with that plan all day. Sometimes its just as fun to watch as it is to actually catch. especially if you can freeze that moment in time…
Ryan was the first to land the fish on our boat. Kyle unfortunately broke off on his.
It was a solid red over the slot limit.
Between the two boats, we wore the Redfish out pretty quick. It was still early in the day at this point so we decided to move on and look for another school. After Roaming around and enjoying a couple beers in the summer sun, we ended up on another flat and put down the motor guide to see if there were any signs of life in the area. Almost immediately spooked off a dozen snook or so on a point being flooded by the current. Definitely a promising sign. But there had a been another school of reds working this area for the past weeks and we continued to hunt for them. The flat was loaded with mullet schools and there were the occasional false alarms of sighting the school. But we finally found them,  and the school was thick! we could see them from about 400 yards away. The water was lit up orange and red on the surface. Such an awesome site. We snuck around and headed them off in the direction they were headed. Kyle and Ryan both launched some healthy sized pinfish right in their path. The reds straight crushed their baits and the school veered off away from the strugglers. Kyles first fish was super bright in color and was just over the slot size at 29″s
After a healthy release, Ryan got his fish to the boat which was roughly about the same size.
By the time we released both fish the school had made way on us and moved up about 2oo yards away. We regrouped and moved on to try to repeat the process. It worked…
Kyle had a monster red try to inhale his bait on the surface while reeling it in. He whipped his bait right back out into the school and hooked up seconds after it hit the water.
This red was pushing 34″ and had the cleanest look to him. No scars. Bright orange in color. Such a beautiful fish! I took my time with this shot and I'm glad I did.
At this point, the school had figured out what was going on and vanished off the flat with the tide. We called it a day and headed back to the ramp with a successful day on the water and plenty of pictures to go along.
If you're ever in the South West Florida area and are looking to duplicate what we did today, Give my buddy Capt. Ryan Clase a buzz and get out to experience it for yourself. He's consistently on schools of big redfish, snook, and other fish in our area.
Captain Ryan Clase, Dynamic Fishing Charters (239)994-3492
Thanks for reading and as always, STAY ON POINT.
-Capt. Matt Johnson (239)834-2814