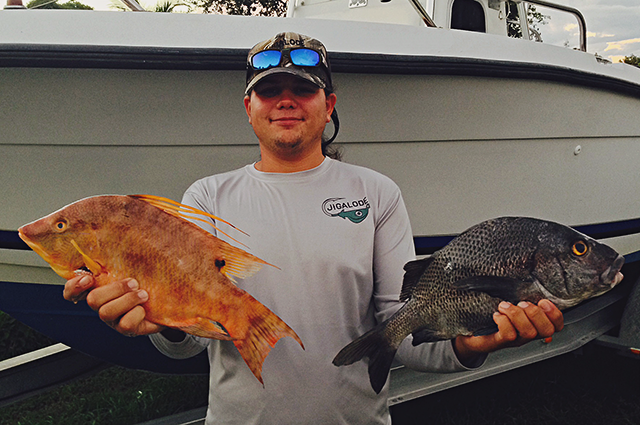 Below The Surface
Hey guys, Lawrence here to bring you the latest on my dive trips from around South Florida.
I was born and raised here, getting my first start fishing off the old 163rd street pier on Miami Beach when I was 3 years old. I was probably 12 when my family made the move down south to Cutler Ridge. That's when I began really getting into fishing and joining all kinds of tournaments from the Rodbenders Local Bar Tournament all the way to the Miami Billfish Tournament. Soon after I found my true passion in diving and everything just stemmed from there. Now you can find me anywhere from Miami Beach down to the keys exploring as much water as I can.
The conditions were looking great this past weekend so my buddies and I went out on Sunday for a quick dive session.  We headed out east about two miles from Lewis Cut and found a few patch reefs that looked promising.
We plunged in to find plenty of nice hogs sitting in 20 feet of water. With some decent water clarity, my buddy Hunter and I brought a dozen hogs back to the boat with us before it was off to our next spot. We found our second reef in 40-45 feet where the water was just perfect. There was over 50 feet of visibility when I spotted this nice black margate and quickly stoned it. Back at the boat it measured in at 18".
It was loaded with school master snapper in the 14-16" range so we invited 7 of them home with us. As we approached the drop off, Hunter and I noticed two nice muttons that saw us and decided they weren't interested in hanging around. Out of the corner of my eye was this good looking black grouper. As I dropped in on it, it seems it also didn't appreciate my company and bolted off through the reef. My attempt to keep up with it didn't work out too well.
With a few missed opportunities, and the day coming to an end, we settled for a few bugs to take home for dinner and it was back to the dock for us.
Until next time, get out there and sling some steel!
-Lawrence