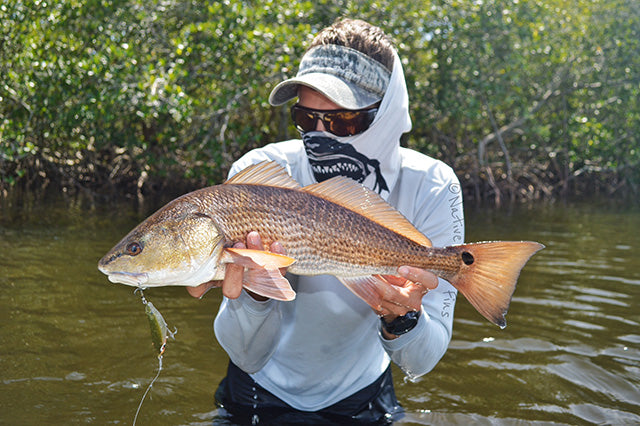 Backcountry with Nativefins
I want to kick off the start of blogging for me with a little introduction about myself. My name is Captain Matthew (Matt) Johnson, born and raised down in South West Florida. I'm currently 28 years old. I come from a long line of fishermen in my family. There's even a fishing pier named after my Great Grandfather up in Honeymoon Island FL Called "The Colonel Frank B. Johnson Memorial Fishing Pier". So all the generations of family fisherman has translated into the upbringing of myself on the water. I was catching my first snook at the age of 4 out on a small island in Pine Island where my grandfather lived for some time.
Now a days I spend most of my time fishing the flats around Sanibel Island and Pine Island Sound. I have my U.S.C.G. Master Captain license that I used to run large family group fishing and shelling trips. But lately I've just been bar tending at night to support the bills and pay for my fishing/photography addictions…
Enough about my background. Lets get to the fish porn and my first blog for Jigalode!
Today was my first full day off from work in a while so I had planned on getting in a decent days worth of getting lost in the groves, listening to light tackle drags scream, and roughing up the fingers. Unfortunately the wind and tides don't always care what day off you have. I decided that instead of waking up at my usual 6 A.M., I would try my best to sleep in enough until the tide started moving. Finally got out with a later start and headed to my local marina to take out the kayak. I figured my best bet was to seek shelter in the mangroves instead of fighting the 20+ knot winds. Fishing started off pretty slow. It was more or less just a sight seeing tour with the fellow fisherman.
Everything about the area looked right to me. Water was moving and pretty clear, lots of small bait riding the tide, and sounds of random pops under the canopy of mangroves every so often. I worked my way through some tight mangrove tunnels out into a secluded channel that funneled the incoming tide towards me and spooked a good amount of potential selfie worthy victims along the way.
First stop was at a narrow section of my path that was deeper than any of the areas around (about 4′ to 5′) instead of the average foot and a half. First cast was easily a rods length into the mangroves… (Deep breath, its the first cast) Some how finessed the Paul Browns version of a Mirrodine out. Second cast was on point, right parallel with the treeline. A couple cranks later and "POP!" lines got tight and that sweet song of a smooth, light drag started singing. Snook on! Of course my kayak goes in the complete opposite direction I need it to go. But camera ready, I did get the first initial jump of the fight.
As I reeled him up to my kayak I noticed he had a couple of fellow inquisitive snook with him. I backed off and led him out of the narrow path to more manageable waters. With the camera already out and the tripod close, figured I'd let the spot cool off for a second and snap a selfie.
After a fast release, I retied the frayed leader and back for round two. It was almost identical with the first round. More acrobatic stunts and aerials (this does not suck by the way…) Besides, It's not the size of the snook in the fight, it's the size of the fight in the snook! Right?
After wearing out my welcome at the creek mouth that produced an hours worth of fun, I decided it was time to work some areas more popular with the redfish. The sun was out in full force and the tide was nearing the end of the incoming. Perfect opportunity to stand up in the kayak and do some sight fishing. I worked the small chain islands poling myself around with the paddle looking for any signs of movement.
Within about 10 minutes of searching the shoreline, I caught a glimpse of a red shimmer in a spotlight between the roots and fired a cast in its path. It was like watching Ray Allen shoot a 3 from the side. Swish! I don't think I even turned the reel once before he slammed my lure.  The red looked a lot bigger initially until I pulled him out from under the trees and realized he had a friend riding right along with him. I lost my balance in the midst of the fight and abandoned ship right into the waste deep water in effort to save my camera equipment.
Right after landing the fish, and shooting a couple pics, one of our lovely weekend boat renters came plowing by in the no wake zone letting everyone know that he is in fact, an "experienced boater" with his cheese burger in paradise blaring for everyone to enjoy. Bless his heart. He was headed to a dead end in which his prop scars I'm sure will prove he found out.
So, on to the next location. I cut through another series of tunnels into another area I frequent. Along the way and a couple dozen blind casts, I pulled a mixture of jacks, mangrove snapper, and even a small cat fish which was a first for me on a artificial twitch bait.
(Sorry, I didn't get a pick of the catfish…)
Time was winding down since I had to be back in before 4. I decided that the day off was a success on the water. On the paddle home I spotted some bait jumping activity out in the open and veered over in that direction. Made a quick cast into the ruckus with the same lure I had been using all day and immediately pulled tight with something that had a lot more umph then anything else through out the day.
At first I thought it was a big red because there was no out of water explosions. But then it turned and hauled butt right towards me. I picked up on my line as quick as possible right as I noticed a respectable mid 30″ snook shoot by my kayak with my braided line ripping behind her. I guess I got cocky and tried to shoot some photos mid fight thinking she was owned.
I ended up pulling the hook on her and she swam off with her head held high in victory. The icing on the cake was that same damn rental boat passed me by again, still jamming out to Jimmy Buffet like it was Lil' Jon playing in the club. That was my sign to call it a day…
I hope you enjoyed the read. I had a lot of fun experiencing it. I'd like to thank Jigalode for the opportunity to write this blog and the pleasure of being able to team up with such a down to earth company. They are producing some great things in the fishing world and a even greater quality of kindness. Be sure to follow them for your dose of fishing related awesomeness, along with a fresh outlook on todays generation of adventurous clothing.
Thanks!
-Capt. Matt Johnson
Follow me on Instagram if you enjoyed the photos: @nativefins