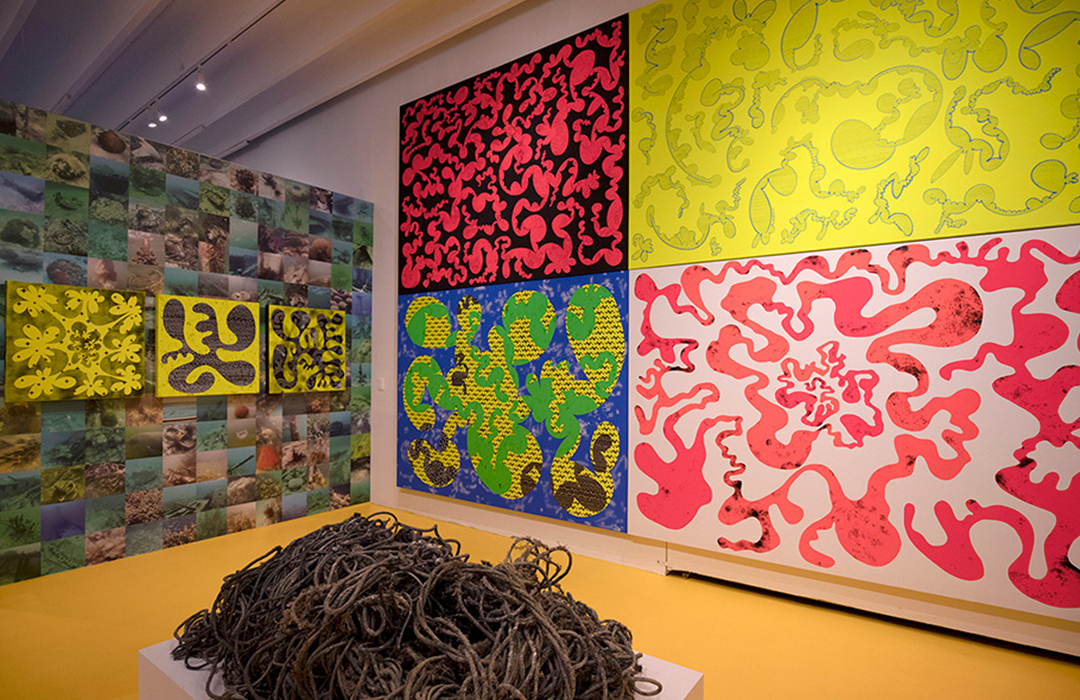 Artist Radar: Gustavo Oviedo
By: Patrick Thomas
Miami is known for a lot of things but fishing and street art stand out most when it comes to local culture. More than likely you've seen the miles of wall art around the city, and we've had the chance to feature long time angler and scuba diver, Gustavo Oviedo. Known as Pest in the graffiti world, this local artist has made a name for himself in the Miami art scene since moving to the 305 from Mexico. Born in France and having lived in Colombia and Venezuela, Oviedo brings a vibrant pop to the city with his abstract wall art that he has dashed on popular hotels, retail shops, and saltwater staples like the Stiltsville Houses in Key Biscayne. He's also been featured in the Museum of Graffiti and his most recent piece was an awareness effort for rising sea levels that he produced for the traveling art exhibit the Miami Community Resilience Pod.
Discovering the art of wall tagging and mural painting at a young age in France, Oviedo's artistic journey kicked off with an unstoppable force and nothing could stop him. Even a back injury that kept him in bed for an entire year only pushed him harder to not only present his vibrant talents to the world, but to also take his love for saltwater fishing and the ocean to the next level.
After crossing the Gulf in his move to Miami from Mexico, he purchased a center console fishing boat and created a whole new style of art after regularly interacting with Miami's intracoastal. As a full-time artist, there's not only a tropical feel to his wild style designs and drip-like imagery, but an environmental push for cleaner seas from what he's witnessed below the ocean's surface.
Having fished Florida for years, Oviedo has incorporated recycled trash that he has come across on his diving excursions and uses items in his artwork such as barnacle-worn glass bottles, yards of recovered anchor-rope, and discarded crab-trap buoys. A decrepit appeal of discarded ocean materials mixed with his vibrant graffiti murals has brought awareness to onlookers and art appreciators. An exhibit he labeled Symbiosis, was showcased at the Museum of Graffiti in Miami's Wynwood Art District.
If you've lived in Miami or have visited in recent years, you're aware of the natural beauty of tall palm trees and Caribbean water clarity along the Atlantic coast. The 305 is always busy, well because it's one of the most beautiful cities in the world. Oviedo's visual communication to the locals and tourists doubles as a wake-up call to the harms humankind has left in the ocean but it's not all gloom and doom that you may see at other art shows.
In an October 2020 interview, Oviedo stated, "My work is about what you can't see. When I go exploring on the water, I find a lot of debris and marine life that works with each other. Metal and fiberglass debris that fish and different marine animals use to live with."
A visionary below and above water, Oviedo is just as much a waterman as he is a street artist. Consciously minded on the topics of climate change and rising sea-levels in Miami, his work is not only appealing to the eye but also to the soul.
"Symbiosis can also make reference to how the ocean has influenced my work. The graffiti world and the ocean, my work is basically the symbiosis of those two worlds. Art is the way that I'm able to live my own life. Art is the way I find freedom in this society."
Between his passion for graffiti murals and saltwater fishing, Gustavo Oviedo has combined a mixture of urban street art with the undetermined future of the Florida coast. By bringing attention to environmental matters with a mixture of spicy colors that you may see when driving along Ocean Drive, Oviedo continues splashing his signature designs where they are needed most.
Check out more of Gustavo's artwork here and his latest video Symbiosis with some Jigalode cameos worn by the man himself: